Since 1875, many families have called Rose Hill Methodist Church their home. We are a generational church with a great heritage, filled with countless stories highlighting the faithfulness of God. Our church also has a great future ahead of us. We are a growing church serving a growing community. If you're looking for a church home, join us this Sunday.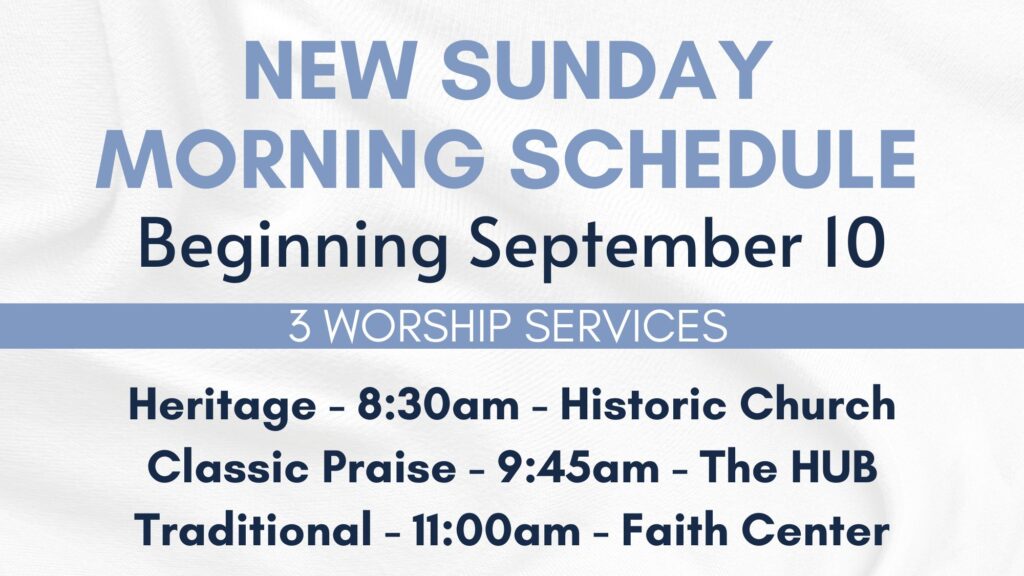 New Sunday Morning Schedule
Heritage @ 8:30am in the Historic Church

Classic Praise @ 9:45am in The Hub

Traditional @ 11:00am in the Faith Center
Adult Sunday School options at 9:45

Children & Youth Sunday School @ 9:45-10:45

Children's Church during the 11:00 worship service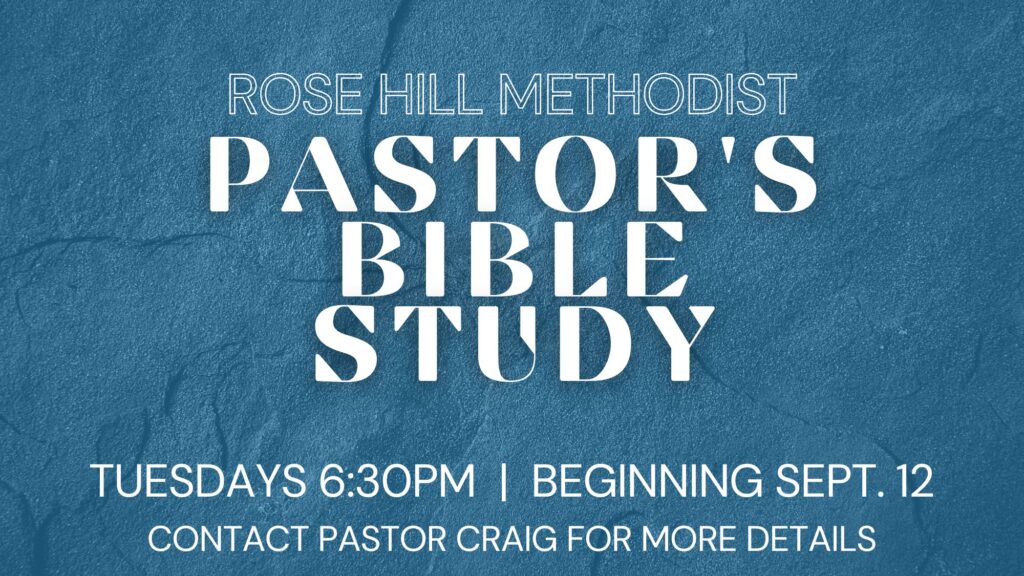 New! Pastor's Bible Study
We will be working through A Purposed Heart for the Purpose of Worship. This is a multi-week study of the scriptural, historical, and practical theology and approaches to worshiping as a Congregation. It is a combination of a video lesson and group Q&A and discussion. There is no cost and this is open to everyone. Feel free to invite your friends.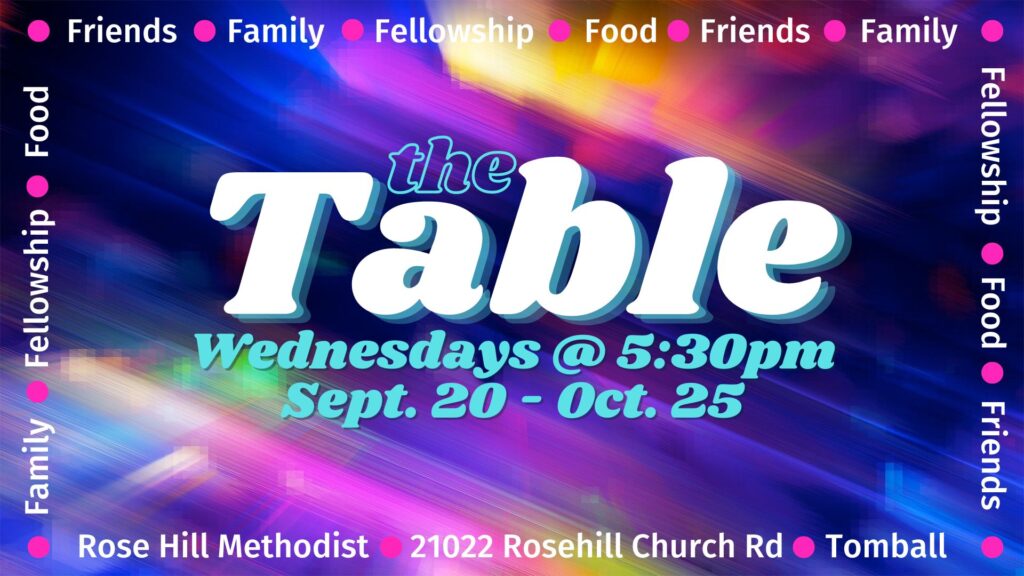 The Table
The Table returns Wednesdays, September 20 – October 25, at 5:30 pm. Come for great food and fellowship. Invite friends and family to join.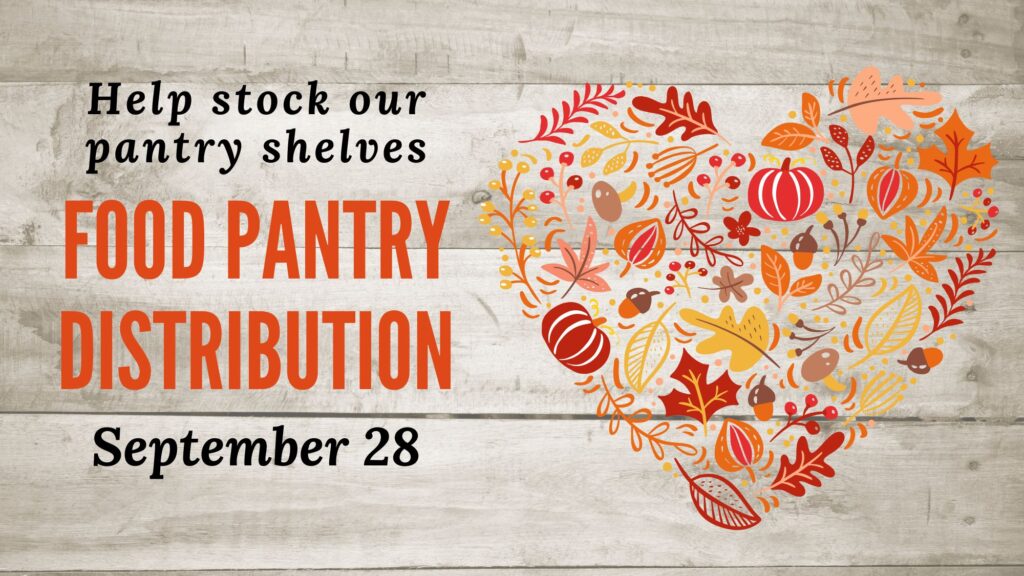 Food Pantry
Mark your calendar and please help us re-stock our pantry shelves for our next distribution on Thursday, September 28, 11 am – 1 pm.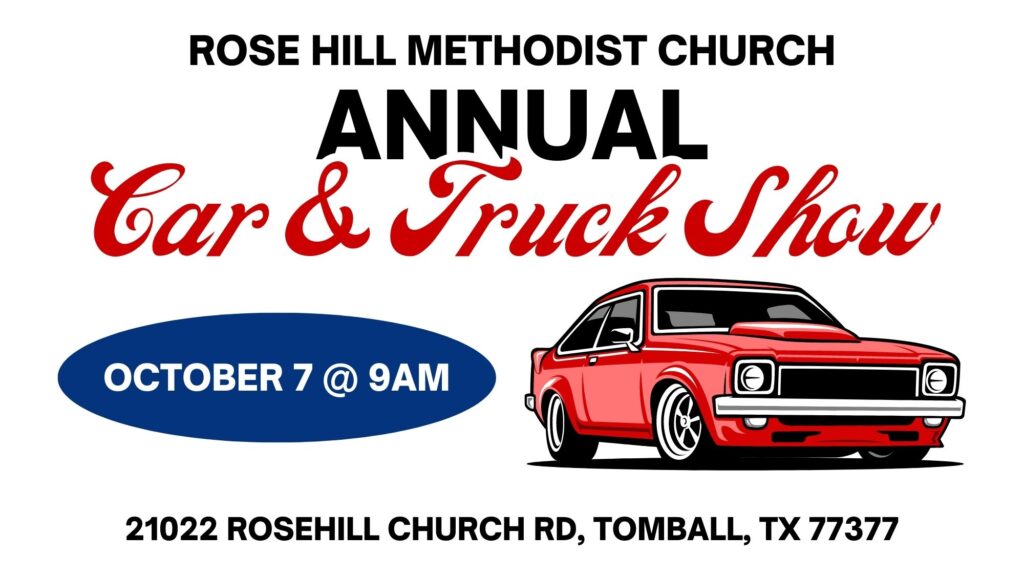 Car & Truck Show
Save the Date! The Rose Hill Methodist Annual Car & Truck Show will be on October 7th starting at 9am. Awards will be presented at 2pm. Food and drinks will be available for purchase. This is a show and shine, family-friendly event, free and open to the public. Click here for additional details.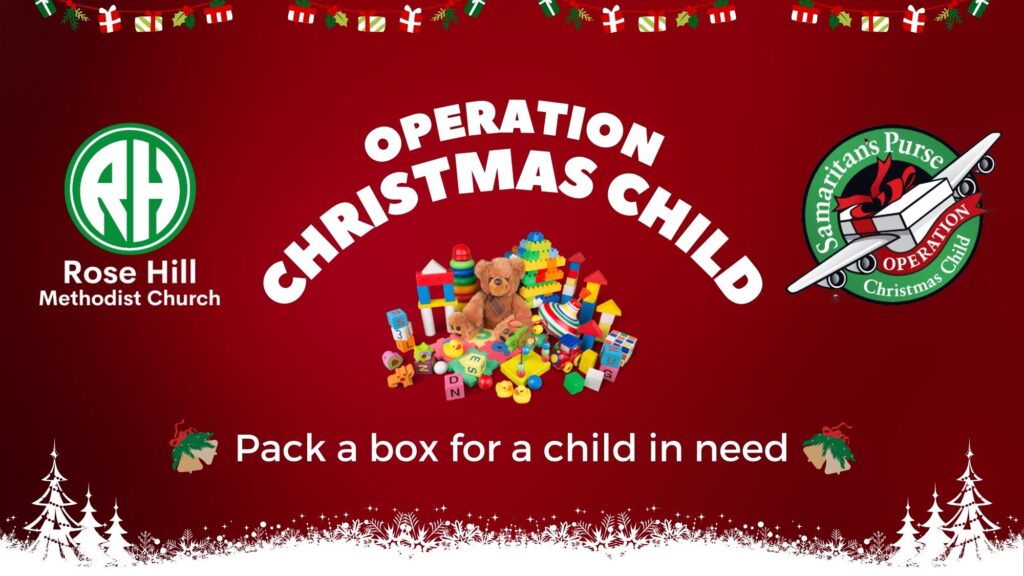 Operation Christmas Child
Pick up a shoe box from the narthex and pack it with toys for a child in need around the world. Click here to learn more about the shoebox journey.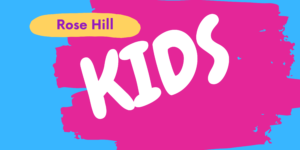 Nursery is available from 8:30 am – Noon on Sundays in the Faith Center.
Children's Church is provided at the 11:00 am service in the Faith Center for 3-year-olds (potty-trained) through 5th grade. Children should come to worship with their families and they will be dismissed from the worship service for Children's Church during the time of Welcome!
Children's Sunday School
meets at 9:45 am.
Classes for PreK-K and Grades 1-2 meet in the Faith Center. Grades 3-5 meet in the Fellowship Hall. Greeters can help you find the correct room for each class.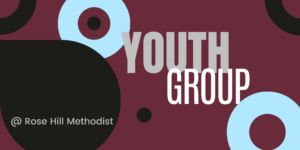 Youth Sunday School meets at 9:45 am in the Faith Center. The students in this class have a large role in determining what topics will be discussed.
9:45 am – This class is studying Fearless by Max Lucado. The class is led by Penny Lucas and meets in the Fellowship Hall.
9:45 am – This class is studying Hard Sayings of the Old Testament by Walter C. Kaiser, Jr. The class is led by Rev. Greg Megill, Alan Kendall, and Cindy Henderson, and meets in the Faith Center Library.
Tuesdays at 7:00 pm – This class meets in the Genesis Room in the Faith Center. Led by Frank Osburn, the class is studying Jesus, The God Who Knows Your Name, written by Max Lucado.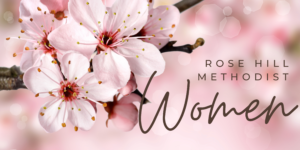 Methodist Women meets for Bible Study on Tuesdays at 7:00 pm via TEAMS. The group has their monthly meeting on the second Thursday at 7:00 pm in the Fellowship Hall. C
ontact Carolyn Andrews here for more info.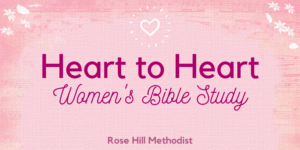 Heart to Heart Bible Study is for women of all ages from the church and the community. We believe that the Bible is the inerrant Word of God and we seek to align ourselves to it. The group meets on Wednesday mornings from 10:00 to 11:30 AM in the Faith Center Library.
Learn more here.
All ladies and friends are welcome!
We hope you will join us on Sunday for Worship and fellowship. Sunday's sermon title is Grace. It is amazing how much one word can completely change the way a scripture makes an impact on our lives and the lives of others; especially when that word is GRACE. This week we hear how the gift of Grace that God freely offers to us begins a process of giving that impacts not only our lives but the lives of so many others. Come this week and celebrate together God's gift of grace.
The scripture reading is 2 Corinthians 9:6-9.
Rose Hill Methodist Church | office@rosehillmethodist.org | 281-351-5356
21022 Rosehill Church Road, Tomball, TX, 77377
2019. Copyright. All Rights Reserved.